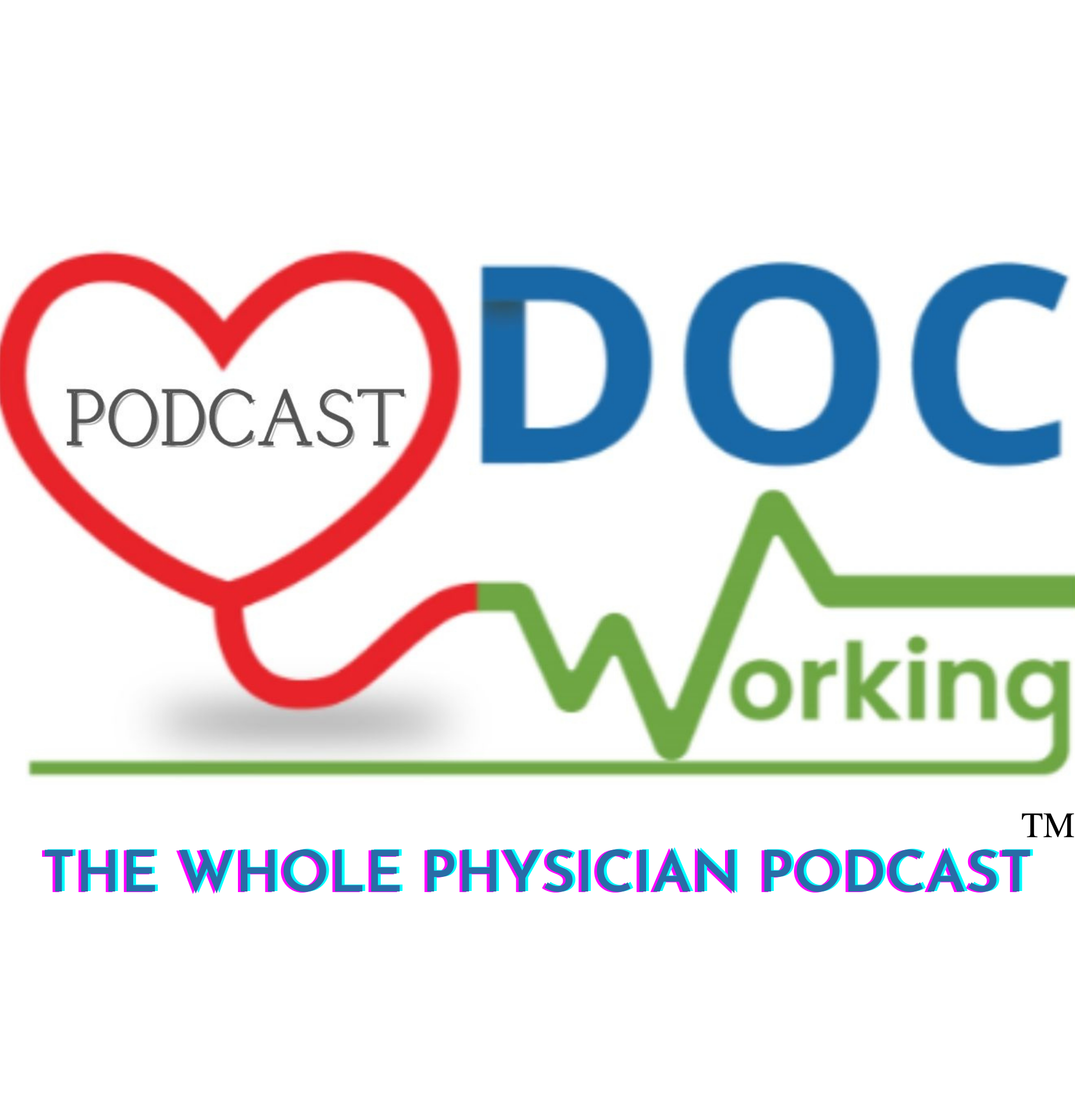 DocWorking: The Whole Physician Podcast. Doctors devote their lives to caring for others, but the time has come to prioritize the health and wellness of physicians. As physicians, we make decisions every day about how to prioritize our time, energy, focus, attention, and money. Our lives are in our own hands. But are we making these as conscious choices or are we satisfied with speeding through life in default mode? Hosts Jen Barna MD, Coach Gabriella Dennery MD and Master Certified Coach Jill Farmer interview physicians to explore ways to embrace life AND a medical career, some who've chosen a path less traveled and others who have optimized their lives on a traditional medical career path. As coaches from the DocWorking team, Gabriella and Jill discuss actionable tips from their experience coaching physicians. We also invite guests on business, leadership, building financial independence, and other pertinent topics to physicians. If you're a physician, we want to hear your story! Please email Amanda Taran, our producer, at podcast@docworking.com to be considered. Want to learn more? https://www.DocWorking.com
Episodes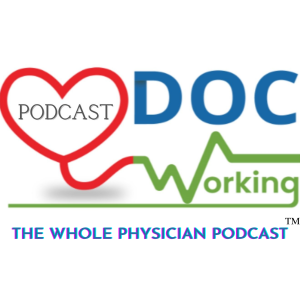 Thursday Feb 03, 2022
Thursday Feb 03, 2022
"It's a two and half page sheet with the 70 non-clinical careers that I'm aware of. There's actually more than 70 but it has a resource for each. So if you haven't had your mind blown yet about what's out there, that's the easiest thing to do." -John V. Jurica, MD, MPH, CPE
In today's episode, Dr. Jen Barna talks to Dr. John Jurica about non-clinical careers. 
John Jurica is a board-certified family physician who began doing non-clinical side jobs early in his career as UM physician advisor and occupational medicine medical director. He then transitioned to hospital administration, first as VP for Medical Affairs, and then as Chief Medical Officer. Today, he shares his wealth of knowledge about non-clinical careers for physicians as well as sharing his own journey as a physician and how he transitioned into non-clinical careers. If you are interested in a non-clinical career or a side gig, this is the episode for you. Dr. Jurica also offers our listeners some helpful resources which are listed below! 
Dr. Jurica completed a master's degree in public health while in practice, and certification as a physician executive (CPE) through the American Association for Physician Leadership. He left his CMO position to partner in an urgent care start-up in 2014, where he continues to serve as owner and medical director. 
In 2017, John started producing the weekly Physician Nonclinical Careers Podcast, where he presents interviews with physician entrepreneurs, medical directors, hospital executives, managers, coaches and other experts in physician career transition. His podcast was listed as a Feedspot Top 20 Physicians Podcasts You Must Follow in 2020 and 2021.
In 2018, he created the Nonclinical Career Academy (nonclincalcareeracademy.com), an online educational platform with individual courses and a membership site designed to help physicians accelerate their career pivots.
Dr. Jurica and Dr. Tom Davis recently launched NewScript, an online community of healthcare professionals, career transition mentors, and wellness specialists helping each other live a better life. It is a private, uncensored, and ad-free space that incorporates a forum, daily posts, mentorship programs, online courses, livestream events and interviews with clinicians who have transitioned to a nontraditional career.
You can connect with Dr. Jurica at the Nonclinical Physicians website: https://nonclinicalphysicians.com
Find full transcripts of DocWorking: The Whole Physician Podcast episodes on the DocWorking Blog 
How many coaches do you think your favorite actors and athletes have worked with over the years in order to achieve such extraordinary success?
What if you had a team of trusted thinking partners, experienced coaches who have helped hundreds of physicians overcome obstacles and who know what works? 
What if you were part of a community of like-minded physicians from across the nation, across specialties and career stages? Your collective brain trust, sharing ideas and experiences, so you would no longer feel like an island, surrounded by people yet alone?
What if you had small group coaching sessions, could interact with your coaches and community as often as you wish, and had virtual courses at your fingertips 24-7 that could help you with things like time and stress management, resilience, and mapping out your future to achieve what matters most to you?
What if you could have all of this for less than the cost of a single 1:1 coaching session per month?
DocWorking THRIVE is the Physician Coaching and Community Subscription Package that Guides You as a Doctor to Embrace Life in the way that is most meaningful to you, integrate that with your work so you can truly thrive, and be a valued member of our growing private community of doctors from across the nation.


Join the DocWorking mailing list by clicking here.
At DocWorking, our specialty is Coaching Physicians to achieve the best in life and medicine. 
Doctors devote their lives to caring for others. But does that mean they must sacrifice their own health and wellbeing? Absolutely not!
At DocWorking, we have developed a unique way to embrace it all.
The caring for others that you do so selflessly AND the caring for YOURSELF AND YOUR FAMILY that you crave in order to bring it all into the perfect balance specific to YOU.
What if we told you that you CAN have it all? The career you dreamed of when you decided to become a doctor AND the life outside of medicine that you desire?
DocWorking empowers physicians to get back on the path to achieving their dreams.
Coaches and Courses at DocWorking
Ace the Boards and Max Your CME
Preparing for your board exam or looking for a quick and convenient way to earn CME? Study for your board exam and fulfill your CME requirements with BoardVitals. BoardVitals is the leading online board review platform, with question banks and CME activities available in more than 50 medical and healthcare specialties.
Save Money Now: Refinance Your Student Loan Debt
Take Back Your Time: Get a Virtual Assistant
Working in the medical field is fulfilling but it can also be exhausting. Physicians often sacrifice their personal time to carry out their duties. They want to go on vacations, start passion projects, or start side businesses but finding the time seems impossible. Recently, more and more physicians are giving outsourcing a try. Outsourcing allows you to delegate tasks to virtual assistants so you can free up your time and finally do whatever it is you've been wanting to do.
Become a Medical Legal Consultant
We at DocWorking are excited to collaborate with Dr. Armin Feldman to bring you this opportunity to develop a side income or even a full time income while using your clinical skills!
Achieve Financial Independence with a Financial Planner/Advisor
Change your trajectory: build financial independence and strength by working with our trusted resources. Working with a trusted financial planner and/or financial advisor can help you to create a specific plan that works for you. The right advisor can help you stay on track to reach your financial independence goal and your next vision.
Protect Yourself and Your Family with the Right Insurance
Doctors and their families need many types of insurance–and inadequate coverage can cost you dearly. Connecting with trusted insurance professionals in your area is recommended to be sure you're appropriately covered.
Are you a physician who would like to tell your story? Please email Amanda, our producer, at Amanda@docworking.com to be considered.
And if you like our podcast and would like to subscribe and leave us a 5 star review, we would be extremely grateful!
We're everywhere you like to get your podcasts! Apple iTunes, Spotify, iHeart Radio, Google, Pandora, PlayerFM, ListenNotes, Amazon, YouTube, Podbean
You can also find us on Instagram, Facebook, LinkedIn and Twitter. 
Some links in our blogs and show notes are affiliate links, and purchases made via those links may result in payments to DocWorking. These help toward our production costs. Thank you for supporting DocWorking: The Whole Physician Podcast!
Occasionally, we discuss financial and legal topics. We are not financial or legal professionals. Please consult a licensed professional for financial or legal advice regarding your specific situation.
Podcast produced by: Amanda Taran