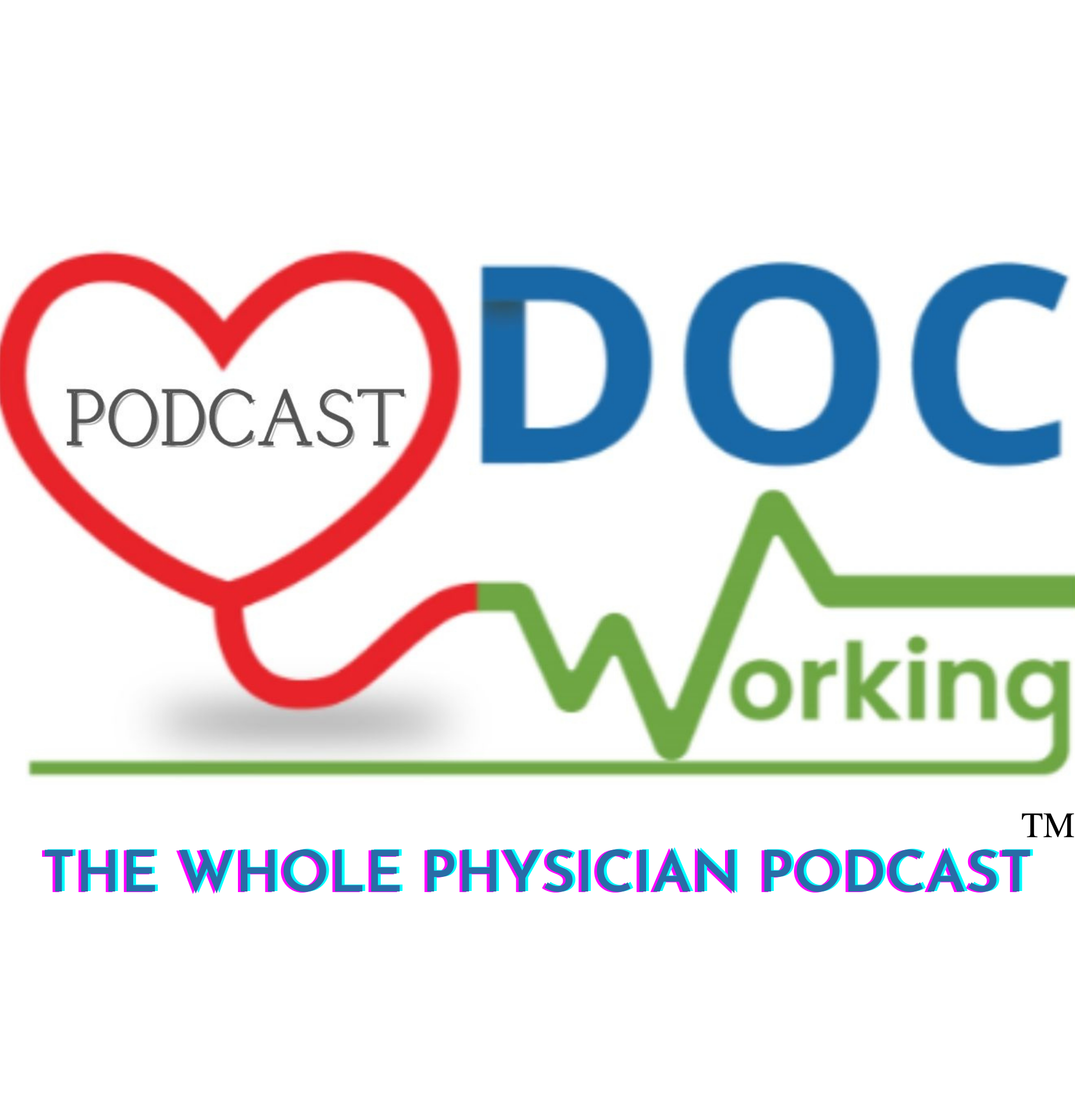 DocWorking: The Whole Physician Podcast. Doctors devote their lives to caring for others, but the time has come to prioritize the health and wellness of physicians. As physicians, we make decisions every day about how to prioritize our time, energy, focus, attention, and money. Our lives are in our own hands. But are we making these as conscious choices or are we satisfied with speeding through life in default mode? Hosts Jen Barna MD, Coach Gabriella Dennery MD and Master Certified Coach Jill Farmer interview physicians to explore ways to embrace life AND a medical career, some who've chosen a path less traveled and others who have optimized their lives on a traditional medical career path. As coaches from the DocWorking team, Gabriella and Jill discuss actionable tips from their experience coaching physicians. We also invite guests on business, leadership, building financial independence, and other pertinent topics to physicians. If you're a physician, we want to hear your story! Please email Amanda Taran, our producer, at podcast@docworking.com to be considered. Want to learn more? https://www.DocWorking.com
Episodes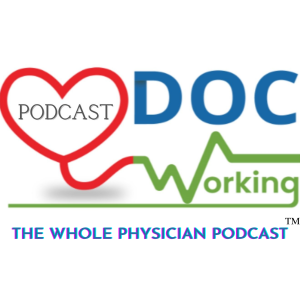 Monday Aug 15, 2022
Monday Aug 15, 2022
"There's no organ called 'the mental'. This is your brain's health. It's an actual organ and it happens to be the most important organ in the body. And so this is very real; it's not made up. When people are presenting with symptoms of PTSD, they're not going bonkers, they're not crazy. This is very concrete, very described, and fortunately, there are strategies for healing."
- Dr. Sadie Elisseou, MD
Nationally recognized health expert Dr. Sadie Elisseou joins our conversation today on DocWorking: The Whole Physician Podcast, to discuss trauma informed care. Master Certified Coach Jill Farmer talks with Dr. Elisseou about how she developed an award-winning curriculum on 'trauma-informed physical examination' that is now taught in medical schools across the United States. Her inspiring story serves as an example of how we as physicians can respond to our patient's needs in order to strengthen relationships, give aid to others, and create a more fulfilling practice of medicine. 
Resources mentioned in the podcast: 
A Novel, Trauma-Informed Physical Examination Curriculum for First-Year Medical Students- Curriculum on Trauma-Informed Physical Examinations, MedEdPORTAL, by Dr. Sadie Elisseou
Books mentioned in the podcast:
What Happened to You?: Conversations on Trauma, Resilience, and Healing by Bruce D. Perry and Oprah Winfrey
Sadie Elisseou, MD is a primary care physician in the Boston VA healthcare system, a Clinical Instructor of Medicine at Harvard Medical School and Adjunct Instructor of Medicine at Boston University School of Medicine, and a nationally recognized expert in the field of trauma-informed care (TIC), an organizational framework for supporting survivors of various forms of trauma. Dr. Elisseou's award-winning curriculum on 'trauma-informed physical examination' is now being taught at medical schools and healthcare institutions across the country. Last year Dr. Elisseou worked with VA colleagues to publish a framework for trauma-informed telehealth. Dr. Elisseou is the co-founder of the Veterans Health Association TIC Collaborative and a member of the Trauma Informed Health Care, Education and Research (TIHCHER) collaborative and the Harvard Medical School TIC Steering Committee. She enjoys building platforms for educating healthcare professionals in trauma-informed practices.
Find full transcripts of DocWorking: The Whole Physician Podcast episodes on the DocWorking Blog 
The past few weeks have been busy at DocWorking! We have been working behind the scenes to add even more CME credits to the THRIVE memberships. 
Let your CME budget help you prioritize your own wellness so you can get on with living your best life on your own terms, as defined by you, with DocWorking THRIVE.
You can take the first step today by taking our 2 Minute Balance to Burnout Quiz! Where are you on the Balance to Burnout Continuum? Take the quiz and find out today!
DocWorking empowers physicians and entire health care teams to get on the path to achieving their dreams, both in and outside of work, with programs designed to help you maximize life with minimal time.
Are you a physician who would like to tell your story? Please email Amanda Taran, our producer, at podcast@docworking.com to be considered.
And if you like our podcast and would like to subscribe and leave us a 5 star review, we would be extremely grateful!
We're everywhere you like to get your podcasts! Apple iTunes, Spotify, iHeart Radio, Google, Pandora, Stitcher, PlayerFM, ListenNotes, Amazon, YouTube, Podbean
You can also find us on Instagram, Facebook, LinkedIn and Twitter. 
Some links in our blogs and show notes are affiliate links, and purchases made via those links may result in payments to DocWorking. These help toward our production costs. Thank you for supporting DocWorking: The Whole Physician Podcast!
Occasionally, we discuss financial and legal topics. We are not financial or legal professionals. Please consult a licensed professional for financial or legal advice regarding your specific situation.
Podcast produced by: Mara Heppard