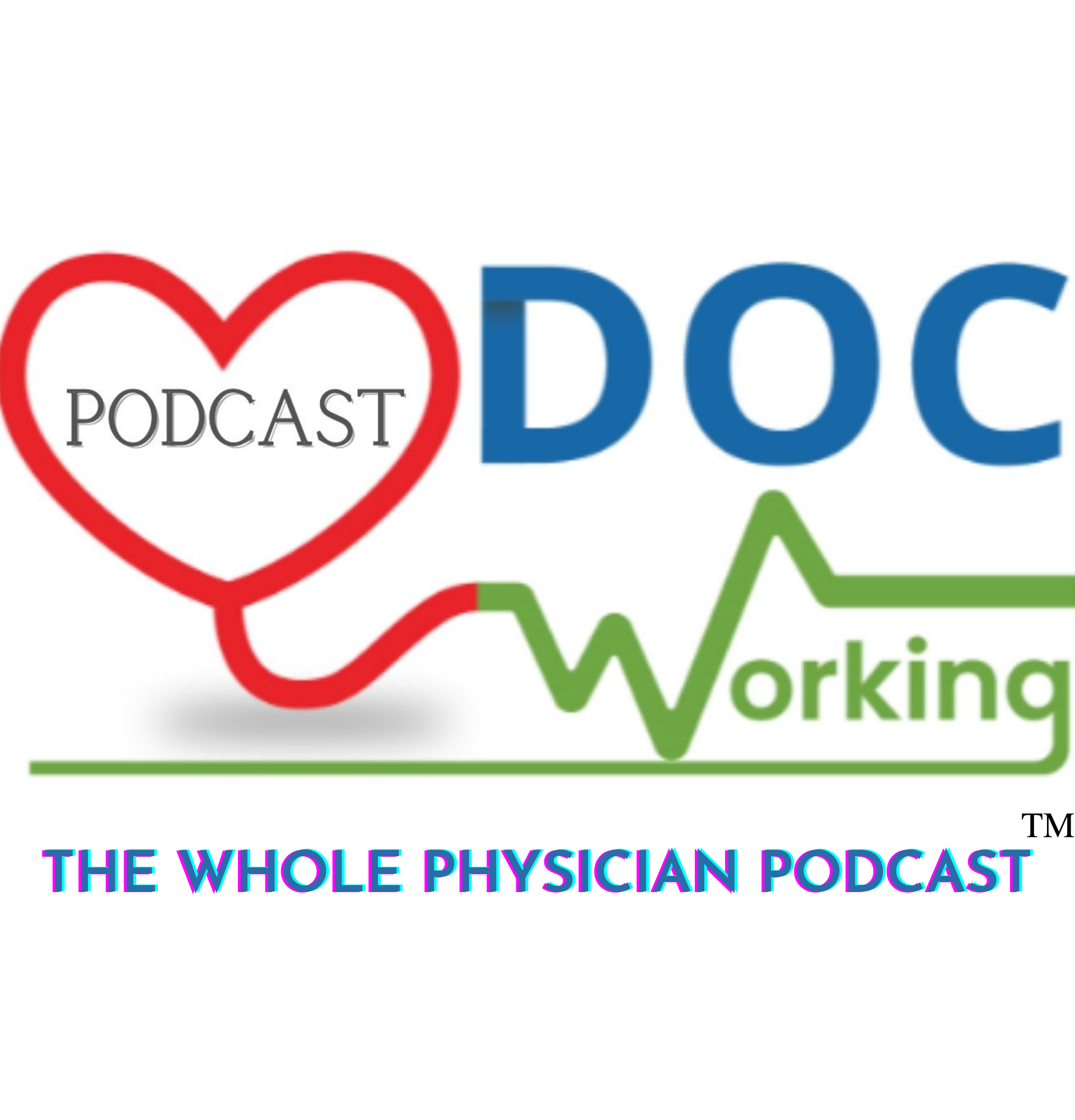 "I think if any of these symptoms start showing up you may say, 'Jill, should I start paying attention?' Yeah, I think so. I think it's time to pay attention. It doesn't mean you need to panic. It's just, let's pay a little attention to this and see if we can turn the direction of our ship so to speak." -Master Certified Coach Jill Farmer
Get One-on-One Coaching with Master Certified Coach Jill Farmer
Get One-on-One Coaching with Coach Gabriella Dennery MD
Physician burnout. It's a hot topic lately and for good reason. Maybe you've experienced burnout, or maybe you know a colleague or another clinician who is dealing with it. Perhaps you're sensing impending burnout and want to know how to avoid it happening to you. You've come to the right place! In this episode, Master Certified DocWorking Coach Jill Farmer covers the three main signs of provider burnout to help you identify it in yourself or a colleague and then she tells us what we can do about burnout. If you are a busy medical professional, you definitely want to tune in to this episode! 
Book/reference related to this episode:
"Burnout: The Secret to Unlocking the Stress Cycle" by Emily Nagoski and Amelia Nagoski
Workbook For Burnout: The Secret to Unlocking the Stress Cycle
Excerpts from Coach Jill in today's show:
"So I'll start with a story about a physician client that I'll call Stacy. She came to me and she said she was exhausted no matter how much she slept. She was feeling frustrated and negative about everyone and everything at work and to top it all off, recently her supervisor had told her that her work wasn't really up to par. I immediately said 'Aah, Stacy you're burned out.' She asked how I knew and I told her it was a classic case and she had just literally laid out the three most common symptoms of burnout. I'm going to tell you more about those in a couple of minutes. It was really in the summer of 2019 when the World Health Organization made it official and called burnout a bonafide syndrome that it started gaining some more attention. Not just around physicians but kind of across the board in business. The dollar figure of $322 billion a year was given to the cost of burnout to business, and while the cost of burnout to business is important, I'm more concerned about the cost that it takes on individual people. The people losing their zest for life, their passion for doing work that matters and their ability to be in meaningful relationships both in work and outside of work. So I think I want to focus a little bit more on that."
"So another physician client I'll call Ron had a story about losing an entire night's sleep because of a perceived slight of a colleague and he even said a year before if something like that would've happened he would've taken a run, blown it off and moved on. So we've got those symptoms of exhaustion and negativity which creates a hyperactive stress response that we describe in a little more detail. Then the third thing that we really look for is when performance workplace efficacy is decreased. That's the way it's described for those who are the kind of professionals on the lookout for burnout. What do we mean by workplace efficacy is decreased? I don't mean that you're not perfect all the time. You're not supposed to be. Perfectionism can be another contributing cause to burnout. But we are talking more about spending a lot more time blaming or shaming yourself or other people. Withdrawing from responsibilities, taking much longer to get things done, experiencing a lot of what productivity experts might call contaminated time. That is where when you are work and you're thinking and distracted about things that have to do with home or things outside of work, and when you're at home, you're constantly thinking about things that have to do with work. So you're kind of contaminating the separation of those two things."
"A lot of things have been written in the last few years about the causes of burnout. In general, one of the things that gets pointed to most often is when we are in high pressure/low control situations, when there is no break in pressure or kind of a generalized lack of autonomy, and when we get in situations where we just feel like we're busy all the time and we cannot step off that hamster wheel. So we know that high pressure/low agency circumstances are common in medicine. Particularly when you are working in highly scheduled environments, depending on your discipline. The number of people that you're seeing every day is often completely out of your control. So you're like, 'Well great, that's just part and parcel, it's a condition of my work that's going to be required so am I destined for burnout?' No. The thing that I think is important to remember here is even though that high pressure/low agency situation can be a big cause of burnout, the other thing that we do have agency over and that I often see physicians forget is when they get outside those work hours. When outside of those work hours, they subconsciously put themselves in situations where they have high pressure and low agency. So they will say yes to all kinds of additional projects. In academic medicine, 'Yes, I'll write that paper, yes I'll give that talk, yes I'll come do this, yes I'll join this board, yes I'll volunteer.'  So they end up inadvertently or subconsciously creating in that time outside of work situations where they again have other people's deadlines, other people's priorities, other people's emergencies become theirs, as opposed to leaving some open space in that time outside of work."
DocWorking believes the time has come to prioritize the health and wellness of physicians.
Professional coaching is transformational. Elite athletes, award-winning actors and top-performing executives all know this, which is why they embrace coaching to achieve such extraordinary success. Leading corporations also know this, which is why they encourage coaching for employees at every level. Smart leaders leverage the power of coaching to achieve outcomes that are meaningful, measurable, and attainable. Our Coaches Will Show You How!
We have exciting news! Our live course, STAT: Quick Wins to Get Your Life Back is coming soon! Life is too short to be stretched so thin. Do you want more time to focus on what matters most to you? Our power packed plan fits easily into your busy day! Coaches Gabriella and Jill have taken all their best strategies from coaching hundreds of physicians over multiple years and folded them into one efficient course. You can easily practice these bite-sized strategies on your timeline: anytime, anywhere. Are you ready to invest in yourself, reclaim your time and minimize stress? Click here!
To learn more about DocWorking, click here!
Are you a physician who would like to tell your story? Please email Amanda, our producer at Amanda@docworking.com to apply.
And if you like our podcast and would like to subscribe and leave us a 5 star review, we would be extremely grateful!
We're everywhere you like to get your podcasts! Apple iTunes, Spotify, iHeart Radio, Google, PlayerFM, ListenNotes, Amazon, YouTube, Podbean
Some links in our blogs and show notes are affiliate links, and purchases made via those links may result in small payments to DW. These help toward our production costs. Thank you for supporting DocWorking: The Whole Physician Podcast!
Occasionally, we discuss financial and legal topics. We are not financial or legal professionals. Please consult a licensed professional for financial or legal advice regarding your specific situation.
Podcast produced by: Amanda Taran